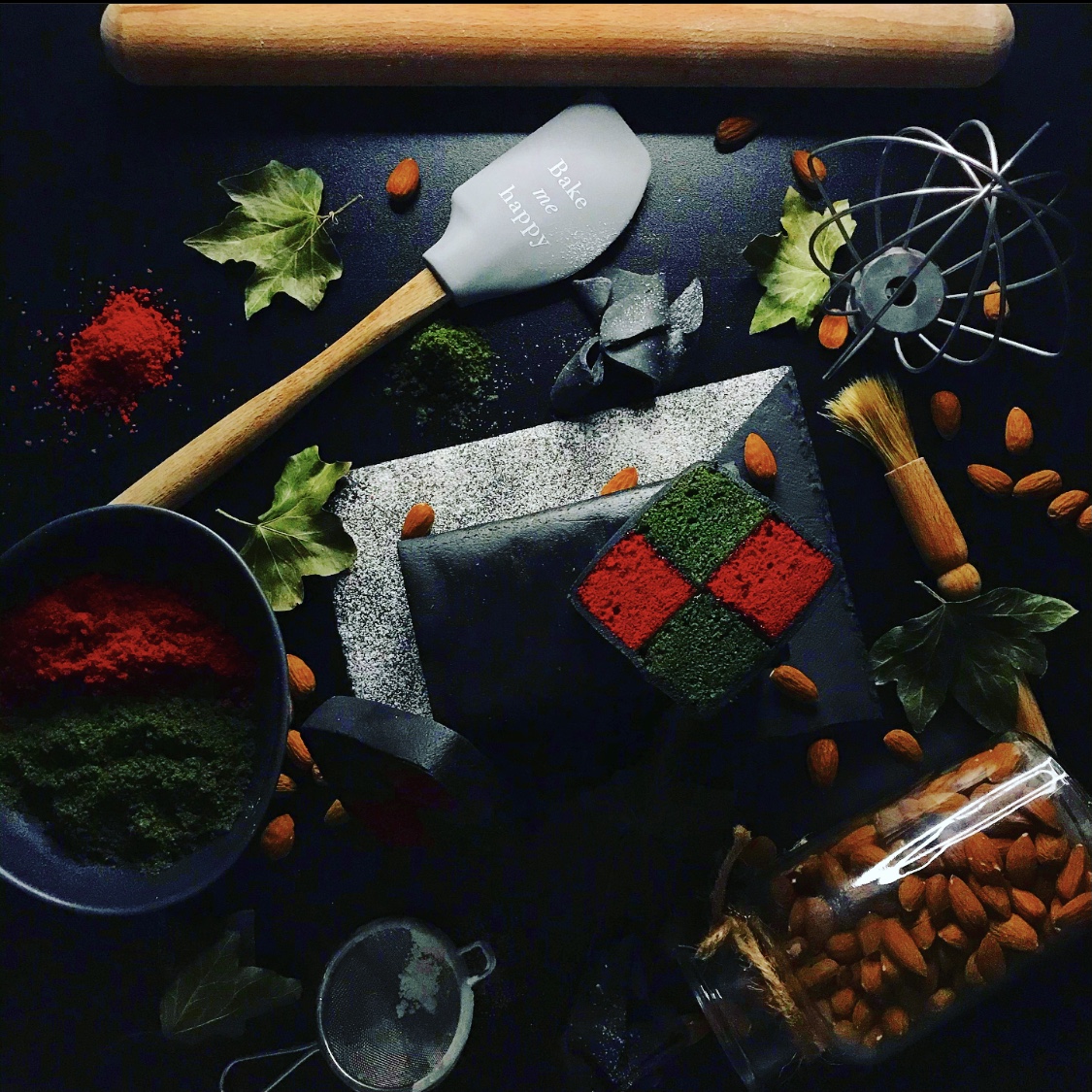 Yield:10 Slices
Prep Time: 2 hours- 2 ½ Hours
Total Time:2 hours ½ - 3 Hours
Ingredients:
Cake
175g Butter (Softened)
175g Golden Caster Sugar
140g Self-Raising Flour (Sieved)
50g Ground Almonds
½ Tsp. Baking Powder
3 Medium Eggs
½ Tsp. Vanilla Extract
½ Almond Extract
¼ Tsp. Food Colouring
¼ Tsp. Green Food Colouring
Marzipan
175g Golden Caster Sugar
280g Icing Sugar (Little extra for rolling)
450g Ground Almonds
1 Vanilla Pod (Seeds)
2 Eggs (Beaten)
½ Tsp. Lemon Juice
3 Tbsp. Apricot Jam (Warmed and sieved)
½ Tsp. Black Food Colouring
Apricot Jam
200g Fresh Apricot (Pitted and Halved)
200g Granulated Sugar
½ Lemon
Directions:
Apricot Jam
1. Pop all your ingredients into a saucepan and leave to steep for 1 hour.
2. Place 2-3 plates in the freezer ready to check the set of your jam.
3. When the timer is up, place the pan on a low to medium heat.
4. Allow the sugar to slowly dissolve and then bring to a rolling boil for 10 – 15 minutes, stirring every so often.
5. After 5 minutes, check the set by; removing a plate from the freezer, placing a small amount on, allow to cool before running your finger through it. If the jam meets back in the middle, it has set. Repeat until set.
6. Sieve into a bowl and set aside until needed.
Marzipan
1. Pop your sugar, ground almond and vanilla seeds in a bowl and mix until well combined
2. Make a well and tip in the eggs along with the citrus fruit and food colouring, mix briefly until a tacky consistency
3. Dust a work surface with icing sugar and knead your dough until smooth. (Try not to over knead else it will get sticky)
4. Shape into a ball, wrap in cling film and set aside until needed.
Cake
1. Preheat your oven to 180 and grease a 20cm square, loose-based cake tin with butter and a light coating of flour.
2. Take strips of parchment paper to create a split down the middle.
3. Put your butter, sugar, eggs, flour and vanilla in a mixer and blend until well combined.
4. Transfer your bowel to a set of scales and measure out half your batter for the red colouring and half for the green colouring.
5. Spoon your batter on the separate side of the parchment.
6. Bake in the centre of the oven for 30 minutes
7. When the time is up / your cakes have risen, turn on onto a cooling wrack to cool to room temp then cut the sponges lengthways into 4 rectangles.
Assembly
1. Ensure your jam is warm before proceeding to the step.
2. Brush your jam along the sides of one rectangle and tick to a contrasting coloured piece. Repeat this with the other two rectangles.
3. Brush jam over the top of one joined cake piece, and sandwich all pieces together.
4. Roll out your Marzipan to a rectangle of about 40cm x 20cm.
5. Place the cake on top of the marzipan and wrap around the cake, pressing from all angles to ensure a secure joint between all pieces.
6. Turn the cake back over to place the marzipan seam on the bottom.7. Allow to fully cool, and ENJOY! 🙂