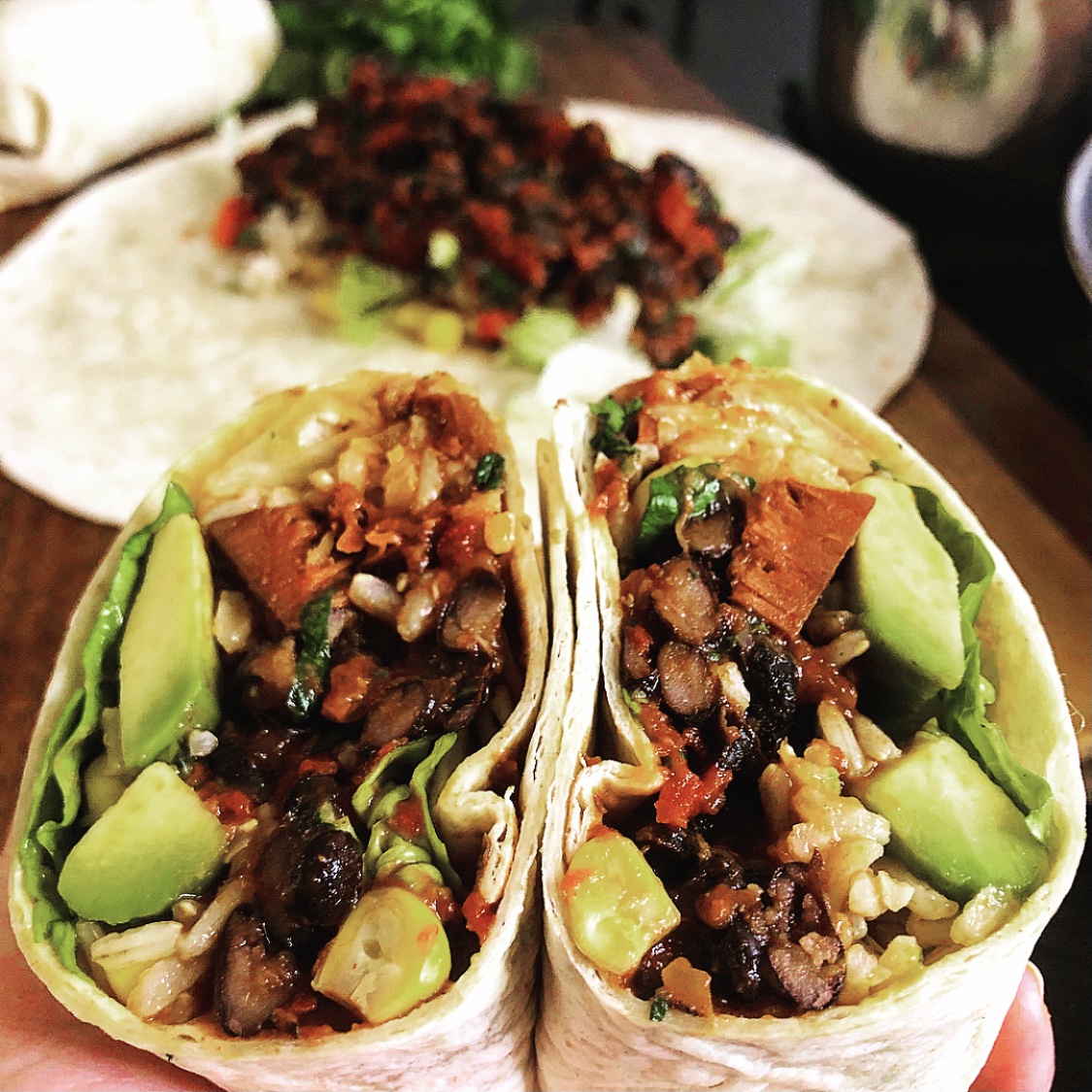 Yield: 4 Large Burritos
Prep Time: 10 Minutes
Total Time: 30 Minutes
Ingredients
4 Large Tortillas
1 Iceberg Lettuce
1 Avocado
BBQ Marinated Jackfruit (Optional)
Shredded Vegan Cheese (Optional)
Black beans:
1 Tbsp. Oil
1 Tsp. Smoked Paprika
1 Tsp. Cayenne
400g Tinned Chopped Tomatoes
400g Black beans (Drained)
1 Handful Fresh Coriander (Chopped)
Rice:
250g Brown Rice (Cooked and drained)
1 Lime (Juiced)
2 Spring Onions (Thinly sliced)
Veggie Mix:
2 Tomatoes (Diced)
200g Sweet corn (Drained)
1 Red Pepper (Diced)
Directions
Firstly you will need to prepare the contents of the burritos that need cooking, including the rice and the black beans. Start off by heating oil in a frying pan, add the garlic and spices to fry off for a minute. Next add the tomatoes to the pan, you want to cook this off until all remaining liquid has evaporated and you get a thick consistency. Add the beans and heat through but keep the beans whole. Set aside.
Add your lime and spring onions to the rice, stir to combine and set aside with the beans.
To assemble your burritos, grab a tortilla, start with the lettuce and then avocado. Top with rice and your veggie mix. Next add the black beans/ jackfruit, and then wrap! Take two opposite sides of the tortilla, bring them together, then pick up the side closest to you, fold over the entire middle section and roll tightly to the end bring in any straight bits from the sides. Slice in half and ENJOY.