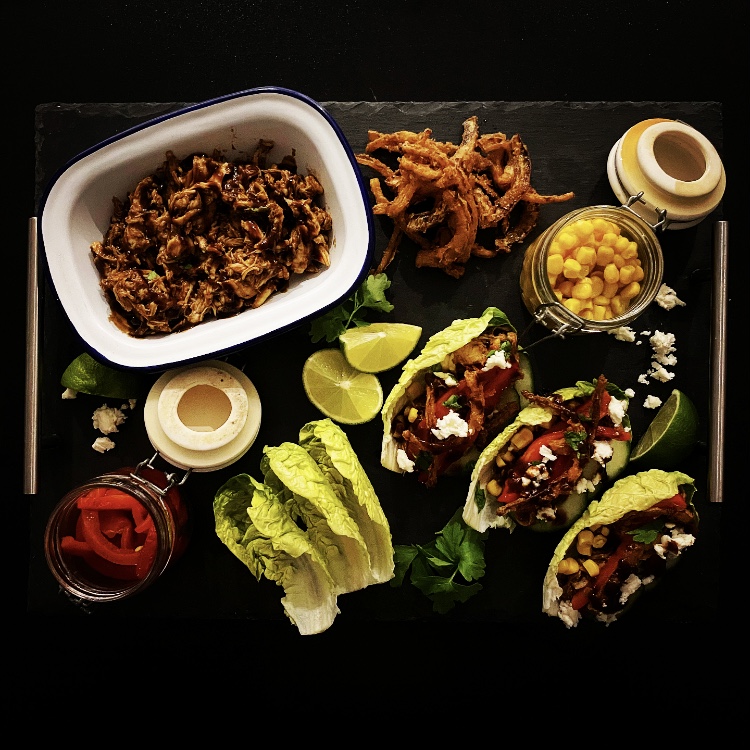 Yield: 6 Lettuce Wraps
Prep Time: 20- 30 Minutes
Total Time: 1 – 1 ½ Hour
Ingredients
BBQ Sauce
1 Tbsp Olive Oil
1 Onion (Finely chopped)
400g Canned Chopped Tomatoes
3 Garlic Cloves (Finely Chopped)
85g Brown Sugar
3 Tbsp Malt Vinegar
2 Tbsp Worcestershire Sauce
1 Tbsp Tomato Puree
Season To Taste
Chicken
500g Chicken Thighs
2 Tbsp Olive Oil
1 Tbsp Paprika
1 Tbsp Thyme
2 Tsp. Salt
2 Tsp. Garlic Powder
1 Tsp. Black Pepper
1 Tsp. Cumin
1 Tsp. Brown Sugar
Directions
1. In a small bowl, combine all the dry ingredients, as well as the olive oil, until well mixed.
2. Place your chicken thighs into the same bowl, make sure all the chicken is covered in your spices, cover with cling film and place into the fridge for 20 – 30 minutes.
3. Preheat your oven to 180, When the 30 minutes is up, place your chicken on a baking tray and roast for 25 – 30 minutes until it reaches 175 to 180 degrees internally.
4. During which time, heat your olive oil in a saucepan and add the chopped onion. Sweat the onions until transparent and softened.
5. Add the remaining ingredients, season with salt and pepper and mix.
6. Leave this to simmer for 20 – 30 minutes or until thickened.
7. Place the sauce into a food processor and blend.
8. After removing your chicken from the oven, shred immediately and toss through the sauce and serve.