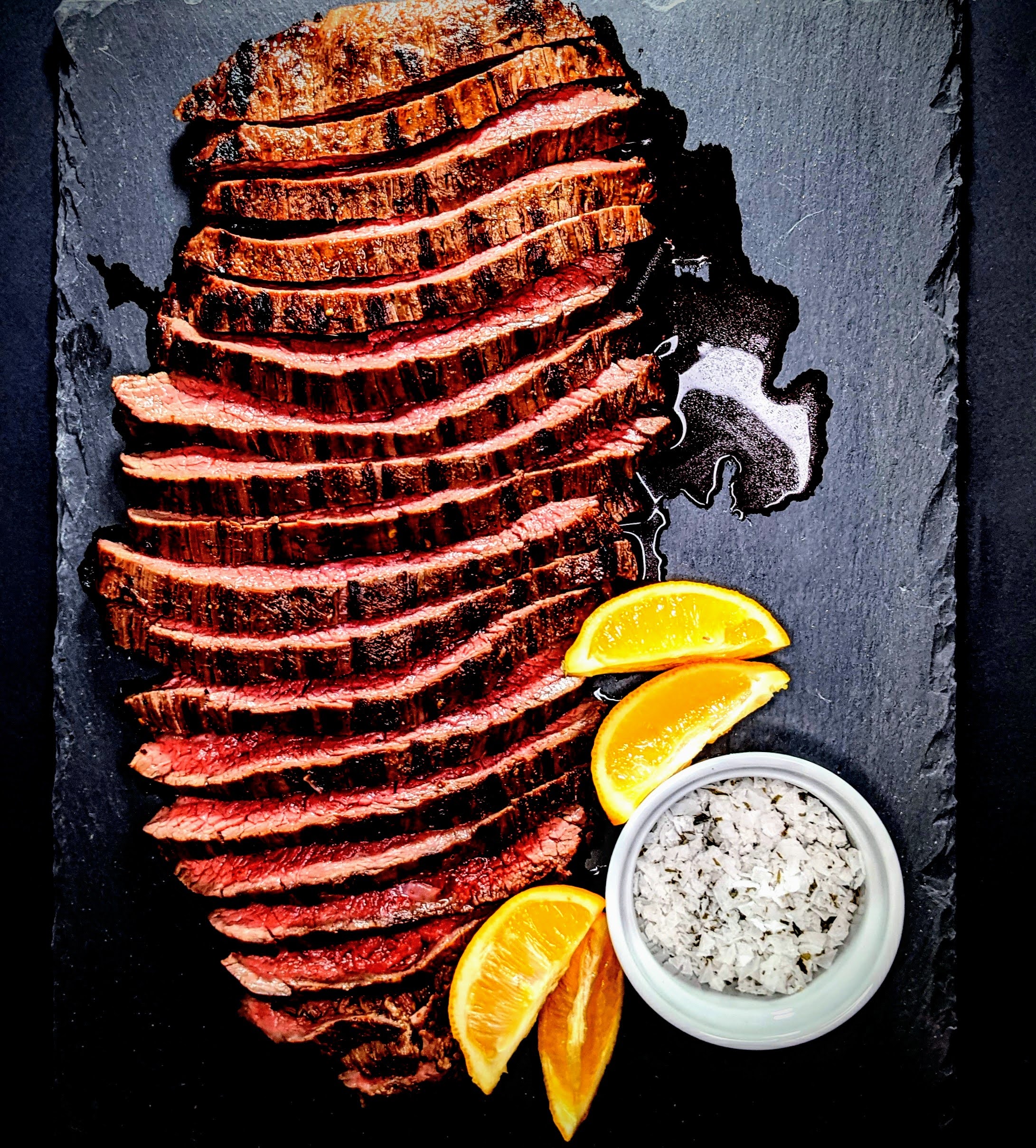 Yield: 6 servings
Prep Time: 30 Minutes
Total Time: 1 Day 1 hour
Ingredients:
3 Lbs. Skirt Steak
2 Tbsp. Olive
2 Tbsp. Roasted Garlic Powder
2 Tbsp. Black Peppercorns
2 Tsp. Red Pepper Flakes
1 Tsp. Cayenne Powder
6 Tbsp. Sesame Oil
1 Tbsp. Dark Brown Sugar
2 c. Soy Sauce
2 c. Cold Water
2 Tbsp. Corn Starch
Juice of 1 Lemon
Directions:
Using a mortar and pestle, grind together roasted garlic powder, black peppercorns, red pepper flakes, and cayenne powder.
In a medium pot on a stove top, with the heat set to medium high, heat olive oil and then add spice mixture. Cook for about 30 seconds, stirring constantly.
Next, add sesame oil and dark brown sugar. Stir until all ingredients are fully incorporated. Then, pour in the soy sauce.
In a small bowl, whisk together the cold water and cornstarch. Then add to the pot, and bring the marinade to a boil.
The marinade will be done when it has thickened and is a thick syrup-like consistency. Carefully whisk in the lemon juice. Allow the marinade to cool completely. Store half of the marinade in an airtight container, and place in the refrigerator for later.
In a large marinade bag (or using a bowl and plastic wrap) place the washed skirt steak in and completely cover with the remaining half of the marinade mixture. Push out all of the air, and seal. Store in the refrigerator overnight.
Prepare your grill according to its instructions. Set to a medium-high heat.
Pull the steak out of the marinade and, using your hands, wipe away excess marinade. Discard marinade used for the raw steak. Do not rinse the meat. Allow the steak to rest at room temperature for 15 minutes.
Place the seared steak onto direct, medium high, heat. Sear on one side for 3 - 4 minutes and then flip to the other side. Sear for another 3 - 4 minutes. Take off the grill, and allow the grilled skirt steak to rest for 10-15 minutes before cutting.
Meanwhile, heat up the reserved bayan marinade sauce. Coat the sliced skirt steak in that yummy sauce, and serve with some lemon wedges.
Enjoy!!