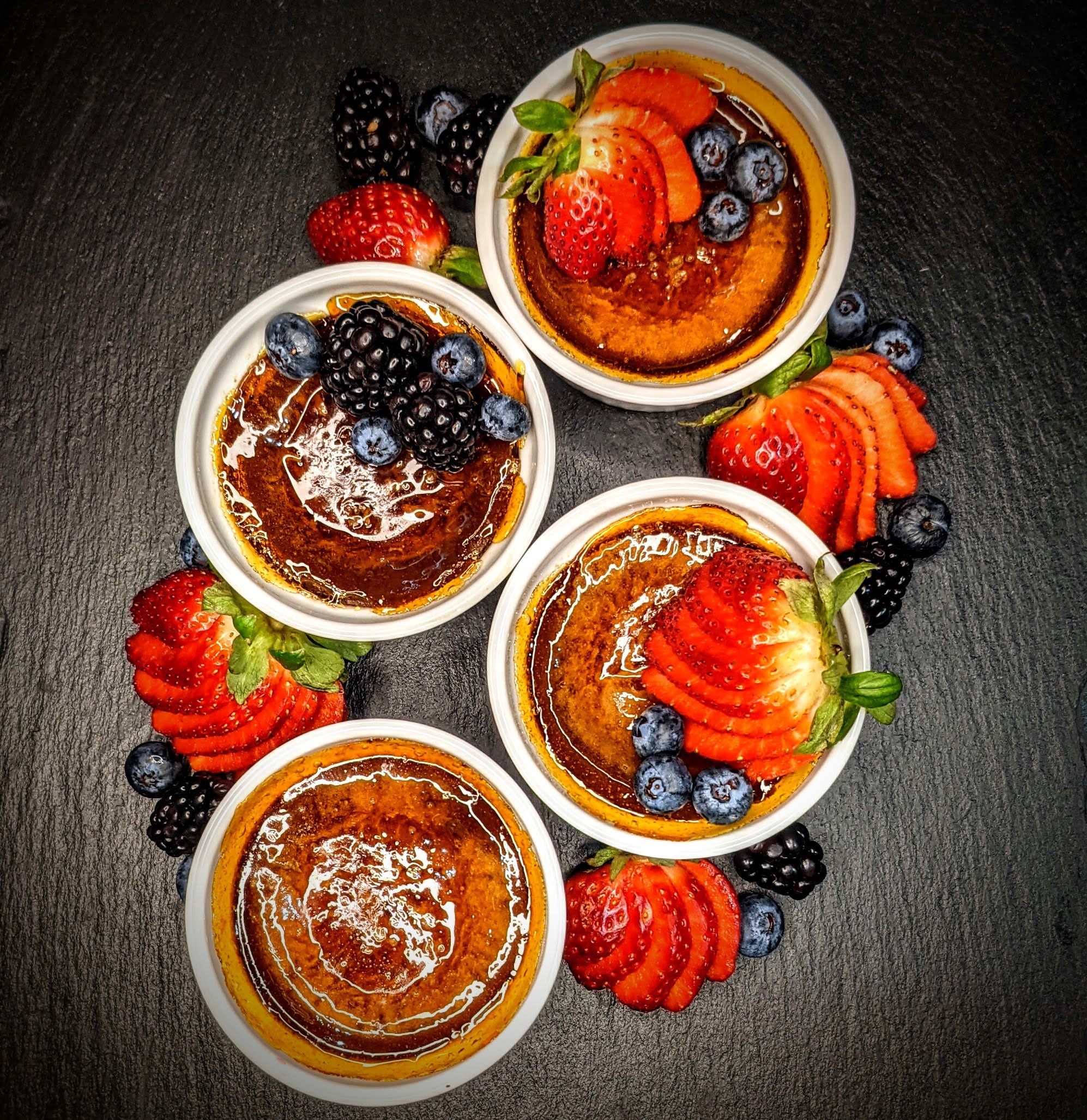 Yield: 5 servings
Prep Time: 10 minutes
Total Time: 3 hours
Ingredients:
4 Egg Yolks
½ c. PLUS 4 Tbsp. Granulated Sugar
2 Tbsp. Cocoa Powder
4 tsp. Vanilla Paste
Heavy Cream
1 Tbsp. Golden Syrup
¼ c. Water
Directions:
Preheat the oven to 250F, and place 5 (3 oz.) ramekins onto a baking sheet.
Place the egg yolks, 4 Tbsp. of granulated sugar, cocoa powder, and vanilla paste into a large bowl. Whisk until all of the ingredients are fully incorporated.
Now, pour in enough heavy cream until you have 2 cups of chocolate creme custard total. Whisk until all of the ingredients are fully incorporated.
Fill 5 ramekins with the chocolate creme custard up to the fill line, and bake for 45 minutes.
Allow the baked chocolate creme to cool slightly before covering with plastic wrap. Store the chocolate creme in the refrigerator for, at least, 2 hours. You can also store them overnight.
Place a frying pan onto a medium-high heat. In the frying pan, combine water, ½ c. granulated sugar, and golden syrup. Stir until all ingredients are fully incorporated. Then, leave the sugar to cook (do not stir). Pull out, and uncover, the chilled chocolate creme filled ramekins.
A soon as the sugar reaches a very dark amber brown, carefully pour a small amount into each chilled chocolate creme pot. Tilt the ramekins making sure to cover the entire top surface. Serve!
Enjoy!!
**Recipe adapted from Adam Ragusea's "No-Torch Crème Brûlée" recipe, found on youtube.**