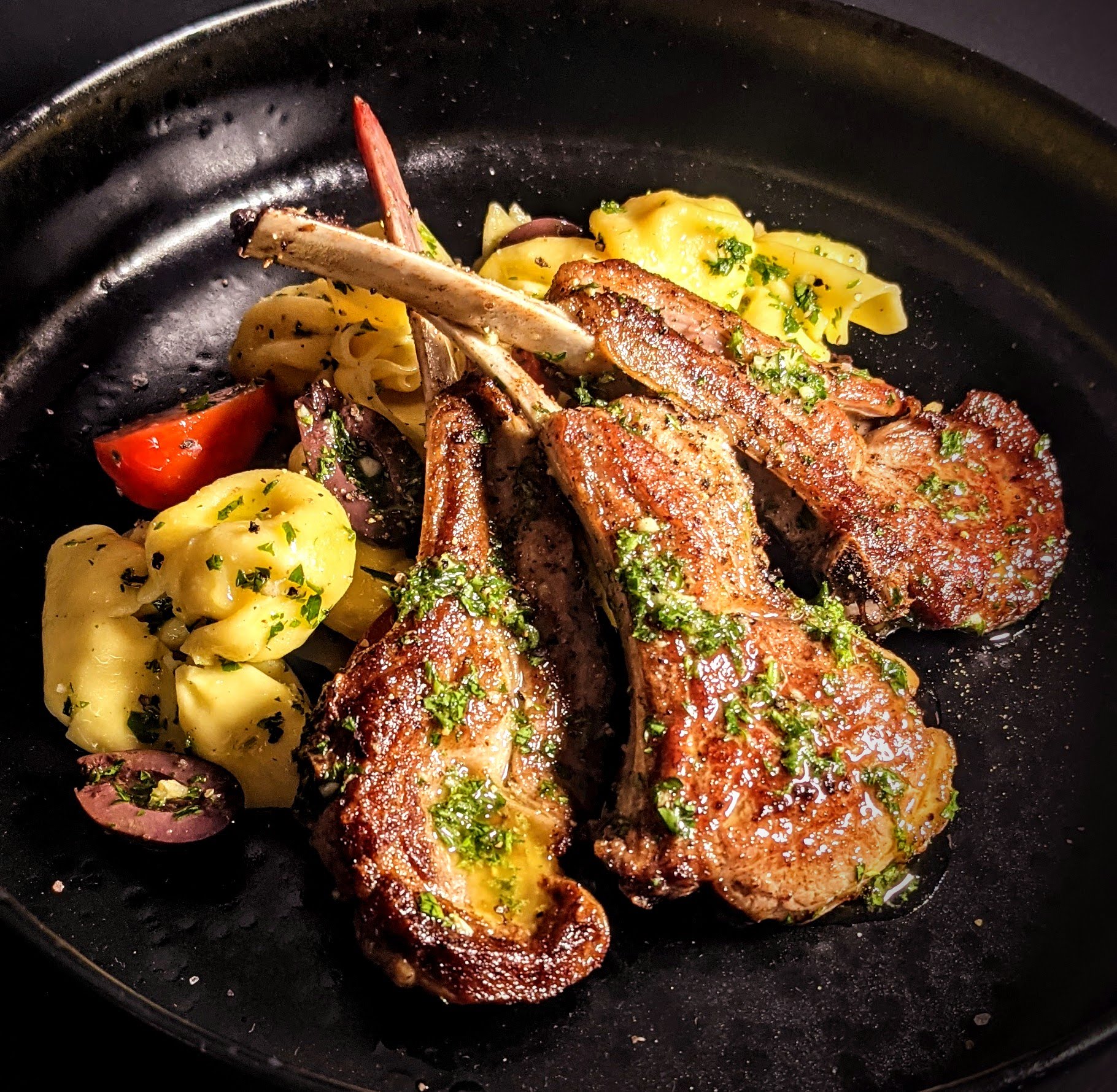 Yield: 4 servings
Prep Time: 10 minutes
Total Time: 30 Minutes
Ingredients:
12 Lamb Rib Chops
1 lb Sacchettoni Pasta (cooked, & hot)
1 c. PLUS 2 Tbsp. Olive Oil
2 Tbsp. Unsalted Butter
1 ½ c. Fresh Parsley (chopped)
4 Large Garlic Cloves (minced)
¼ tsp. Salt
½ tsp. Black Pepper
½ c. Grape Tomatoes (halved)
½ c. Kalamata Olives (halved)
Salt and Pepper to Taste
Directions:
Place cooked pasta into a very large bowl. Add the halved kalamata olives & tomatoes into the pasta filled bowl.
Wash & then pat dry the lamb rib chops. Set aside. In a cast iron pan, set on a medium-high heat, pour in 2 tbsp. olive oil and butter.
Meanwhile, In a food processor, combine 1 c. olive oil, fresh parsley, garlic cloves, salt & pepper. Pulse for about 30 seconds.
In a large bowl, pour in about 2 large spoonfuls of the parsley & garlic dressing. Set aside. This will be the dressing used to coat the cooked lamb rib chops. Pour the remaining dressing into the pasta bowl and toss until all ingredients are fully coated.
As soon as the oil is hot, sear each side of the lamb chops for 3 - 4 minutes. Continue to cook the lamb to desired internal temperature. Lamb should reach 140F (rare), or above.
Place the cooked lamb rib chops into the bowl, with the dressing. Toss the lamb until they are fully coated with dressing.
Serve each plate with 3 lamp rib chops, and some of the pasta.
Enjoy!