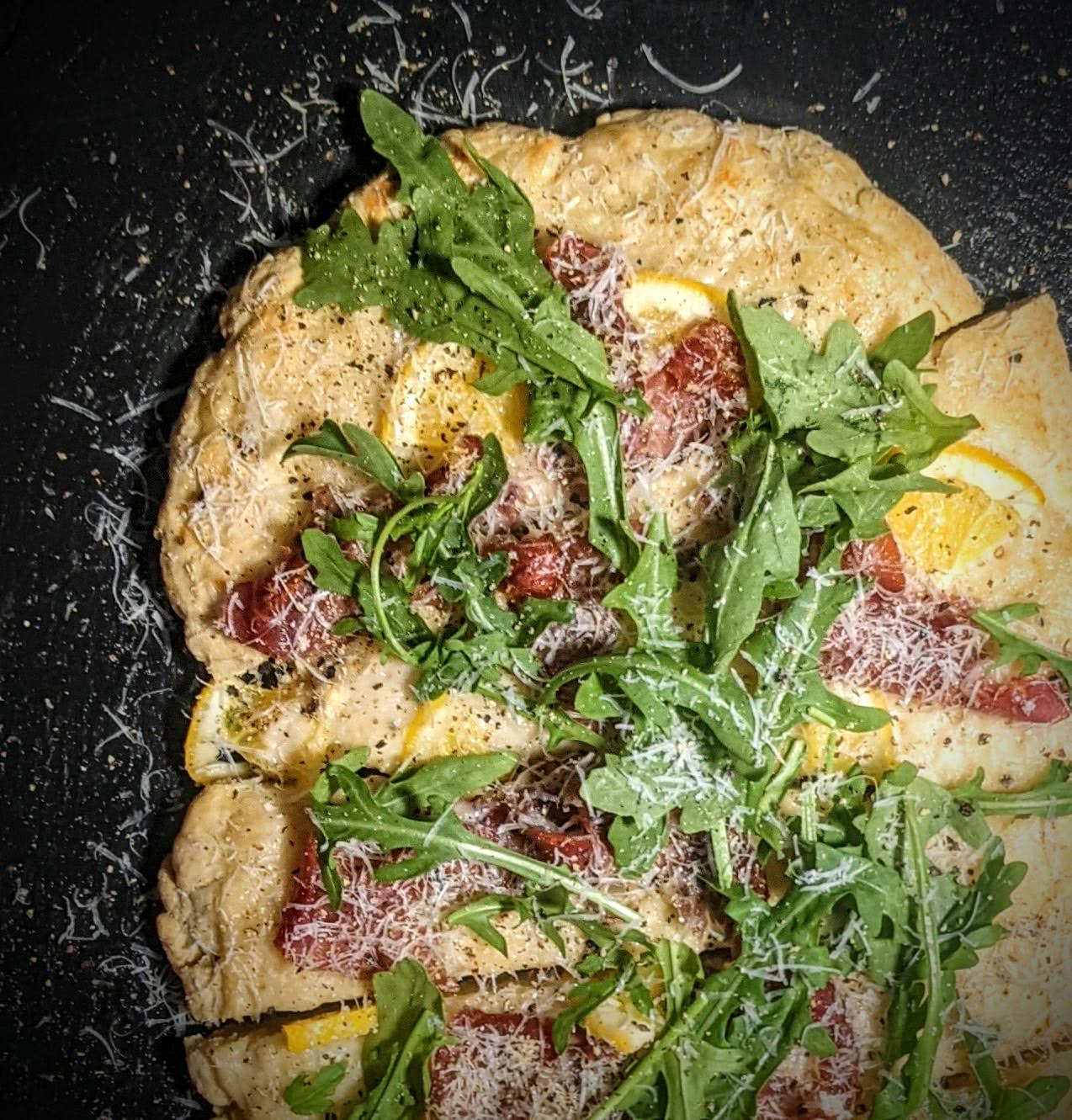 Yield: 6 serving
Prep Time: 10 minutes
Total Time: 25 minutes
Ingredients:
2 c. All Purpose Flour
½ tsp. Baking Soda
½ tsp. Baking Powder
½ tsp. Salt
¼ tsp. Granulated Sugar
1 tsp. Roasted Garlic Powder
½ tsp. Freshly Ground Black Pepper
1 c. Whole Fat Milk
5 Tbsp. Extra Virgin Olive Oil
Toppings:
Alfredo Sauce
Prosciutto
Meyer Lemon (thinly sliced)
Arugula
Parmigiano Reggiano (finely grated)
Salt & Pepper to Taste
Directions:
Preheat the oven to 400F. Prepare a large baking tray with a sheet of parchment paper.
In a large bowl, whisk together all purpose flour, baking soda, baking powder, salt, granulated sugar, roasted garlic powder, & freshly ground black pepper. Whisk well to ensure all ingredients are fully incorporated.
In the center of the dry ingredients, pour in the whole fat milk and 3 Tbsp. extra virgin olive oil. Mix until all ingredients have just combined. On a floured surface, knead the dough just a few times and then use a rolling pin to form a large oval. The dough should be about a centimeter thick. Use a basting brush to lightly coat the rolled out dough in the 2 Tbsp. extra virgin olive oil.
Place the rolled out dough onto the prepared baking sheet. Top with a small amount of alfredo sauce and desired amount of meyer lemon slices & prosciutto. Bake for 15 minutes.
Allow the biscuitbread pizza to cool slightly. Then, top with additional parmigiano reggiano and desired amount of arugula. Salt and Pepper to taste. Cut into 6 slices, and serve.
Enjoy!