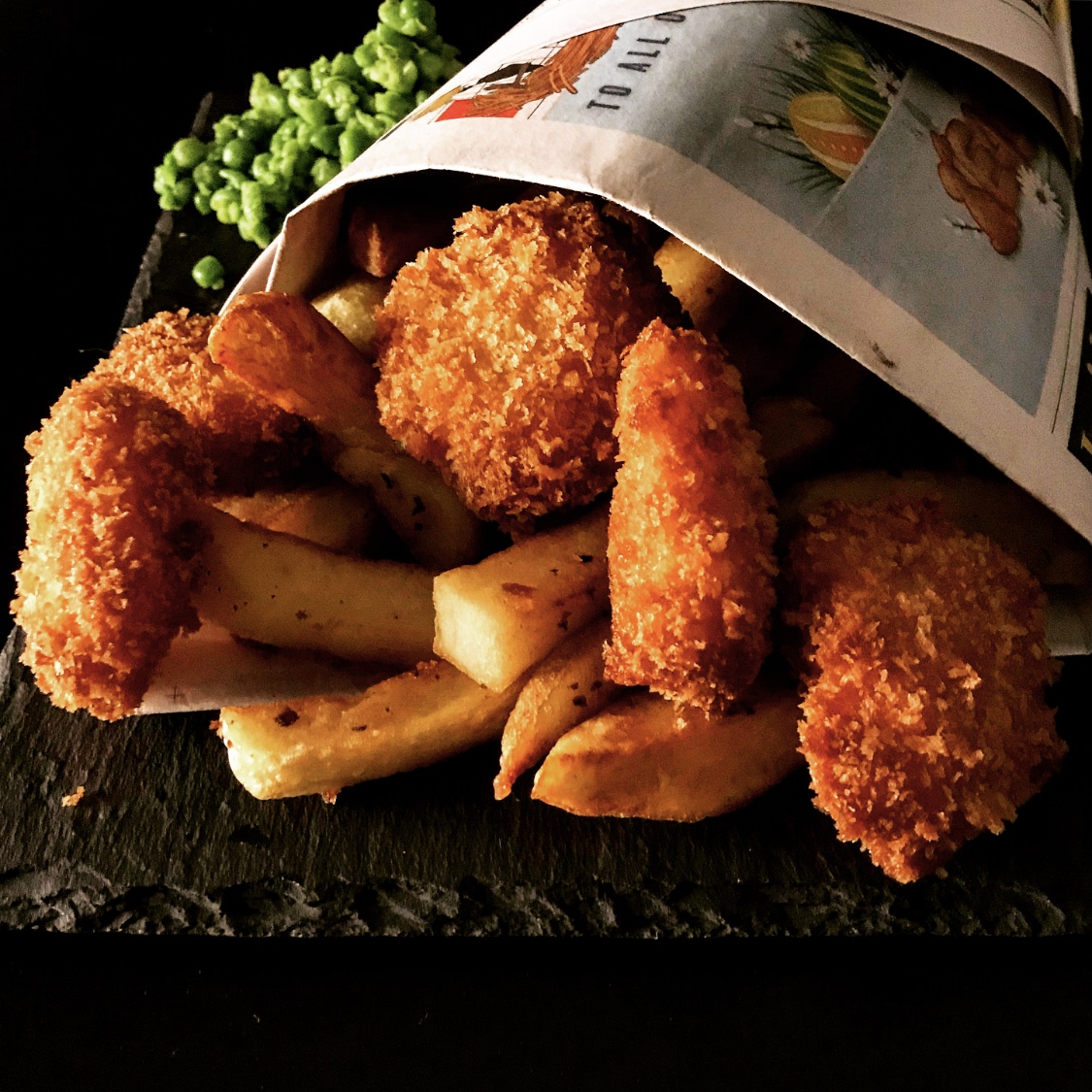 Yield: 2 Portions
Prep Time: 15 Minutes
Total Time: 35- 40 Minutes
Ingredients
200g Prawns
70g Panko Bread Crumbs
70g Flour
1 Egg
Vegetable Oil (For Shallow Frying)
2 Large Baking Potatoes
100g Peas
½ Tsp. Dried Mint
1 Tsp. Butter
Tartar Sauce and Lemon Wedges (Optional)
Directions
1. Preheat your oven to 150 Degrees
2. Start off by preparing your scampi by slicing your prawns in half horizontally. Set up a station of flour eggs and breadcrumbs in 3 separate bowls. Dip each prawn half in each the flour then egg then breadcrumbs and place on a plate with paper towel to then all go in the fridge to set a little (5 minutes) Keep the station ready for a second coating.
3. Next prepare your chips by peeling and slicing into cm thick chips and placing them in cold slated water to also be placed in the fridge for 10 minutes
4. During this time set up a small saucepan of boiling water to pour your peas into to cook for recommended manufacturers time. When fully cooked, place half into a blender with the butter and mint and blend to desired consistency before added back to the whole peas. Season to taste.
5. Place medium sized frying pan on medium heat with 2 inch's of vegetable oil.
6. When the oil has come to temperature (take a dried chip and place in to see if sizzles) drain the rest of the chips and pat dry with kitchen roll. Cook fry off in batches until the chips have a white coating and just turning brown on the edges. Remove and place on a paper towelled plate.
7. Remove scampi from the fridge, do a second coating of the egg and breadcrumbs and place into the same oil used for the chips. Cook for 1- 2 minutes each side. When golden, place on a tray and pop in the oven to keep warm.
8. Turn the heat up to a medium high heat and fry off the chips for a second time just to add colour. (1- 2 Minutes) Place on the tray to keep warm in the oven or serve altogether immediately. Tartar sauce and lemon wedge highly recommended! And ENJOY!