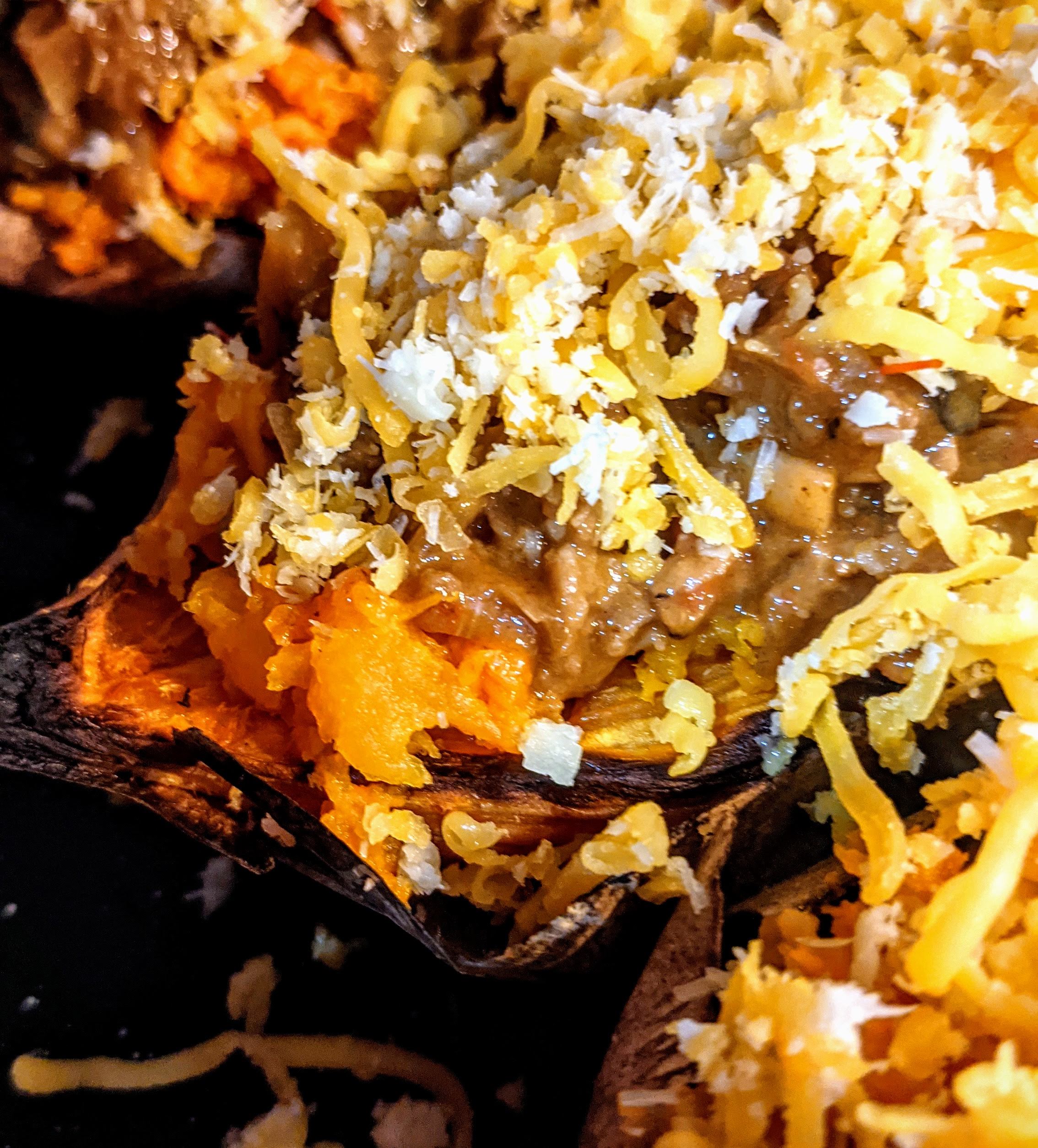 Yield: 4 servings
Prep Time: 10 minutes
Total Time: 55 Minutes
Ingredients:
2 Very Large Sweet Potatoes (halved)
2 Tbsp. Olive Oil
¼ Large Yellow Onion (diced)
1 King Trumpet Mushroom (diced)
6 Cremini Mushrooms (diced)
1 - 2 Garlic Cloves (minced)
2 Medium Campari Tomatoes (diced)
2 Beyond Beef Burger Patties
¼ c. (Vegan) Creamy Mushroom Soup
¼ c. (Vegan) Vegetable Stock
2 Tbsp. Soy Sauce
½ c. English White Cheddar*
½ c. Sharp Cheddar*
Salt and Pepper to Taste
Directions:
Preheat the oven to 400F. Prepare a baking sheet with a sheet of parchment paper.
Wash the sweet potatoes, very carefully poke the center with a fork 4 times, and then place onto the prepared baking sheet with the potato skin side down.
Bake for about 40 minutes, or until there is no resistance when poking with a fork.
Meanwhile, pour the olive oil into a frying pan and set to a medium to medium-high heat. Once the oil is hot, toss in the diced onion, cremini and king trumpet mushrooms. Cook for about 10 minutes, stirring occasionally. Now, add in the minced garlic, and stir until well combined. Cook for about 2 minutes.
Using your hands (or fork), crumble the meatless burger patties and add to the frying pan. Cook, occasionally stirring, until the meatless crumbles have browned. This will take about about 5 minutes. Add the diced tomatoes and cook for 2 - 3 minutes.
Add the mushroom soup, vegetable stock, and soy sauce. Continue to cook until the shepherd's pie mixture has thickened. It should be a sloppy joe consistency.
Once the sweet potatoes are fully cooked, use 2 forks to shred & mash the potato center. Spoon the shepherd's pie mixture on top of the sweet potato halves, and top with desired amount of cheese.
Place the stuffed jacket potatoes back into the oven, and set the broiler to high. Broil for about 1 minute, just long enough for the cheese to melt.
Serve & Enjoy!!
*** Make it vegan by replacing the cheese with a vegan friendly alternative cheese.***