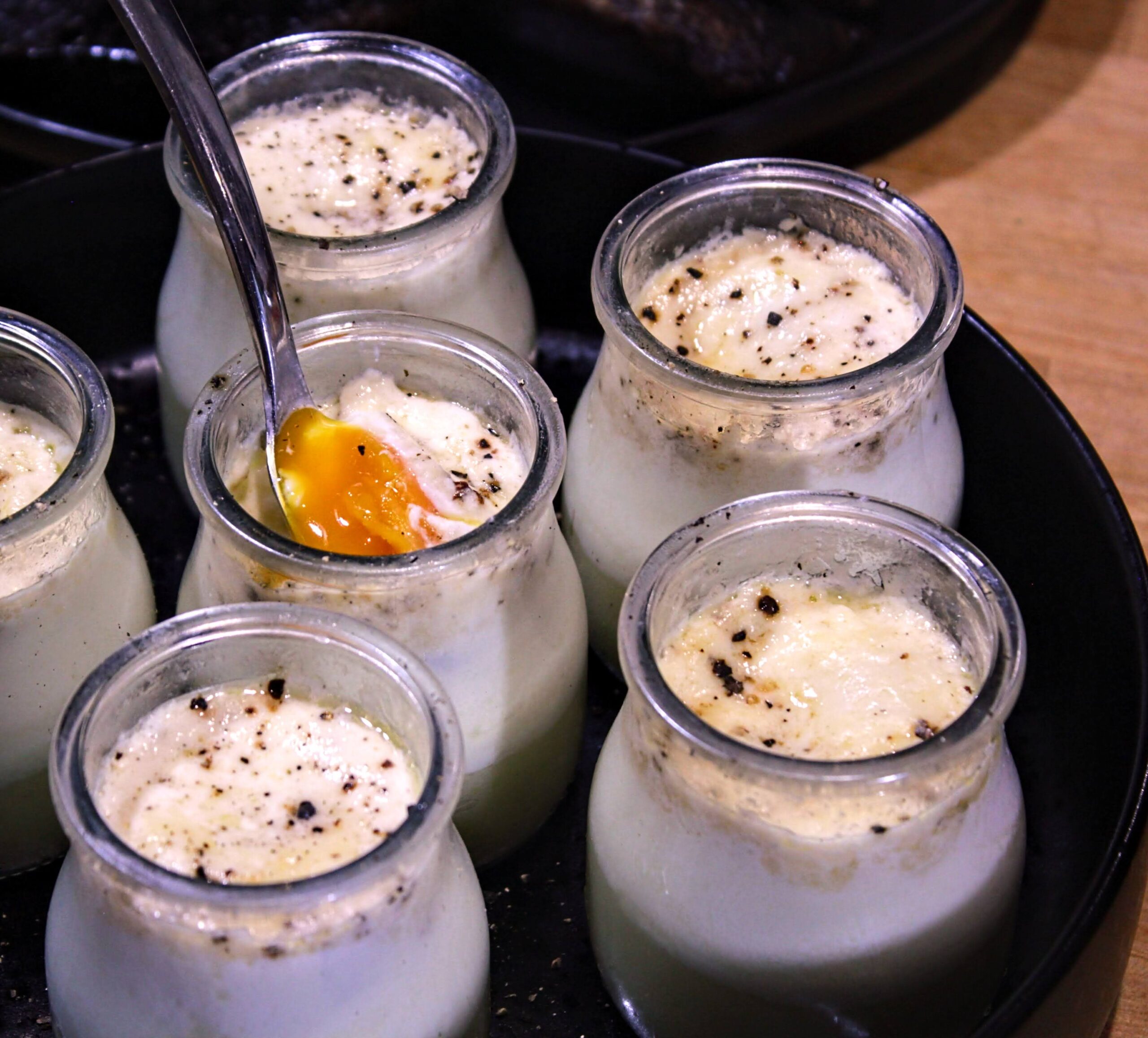 Yield: 6 servings
Prep: 10 minutes
Total Time: About 40 Minutes
Ingredients:
2 Large Russet Potatoes (peeled & cut into large cubes)
1 Large Leek (diced)
½ c. Heavy Cream (warm)
¼ c. Heavy Cream (chilled)
½ tsp. White Pepper Powder
½ tsp. Roasted Garlic Powder
6 Eggs
¼ c. English White Cheddar (finely shredded)
¼ c. Parmigiano-Reggiano (finely shredded)
Directions:
Fill a large saucepan about halfway with cool water, and season with salt. Pour in the cubbed russet potatoes, and bring to a boil.
When the potatoes are fork tender, pour in the leek slices and boil for an additional 10 minutes.
Drain the potatoes and leeks. Place the drained potatoes and leeks into a larger bowl along with the ½ c. warm heavy cream, white pepper powder & roasted garlic powder. Using an immersion stick blender, blend together all of the ingredients until a very smooth puree has formed.
Spoon the puree into 6 small glass jars. Be sure to only fill about halfway. We used recycled yogurt jars. Cover the jars with plastic wrap and then place them into the refrigerator until cool.
Once the puree has cooled in the jars, divide a ¼ c. of chilled heavy cream into the 6 jars. Then, crack one egg into each jar. Be careful to not to brake the egg yolks.
Place the 6 potato & egg filled jars into a deep saucepan. In a separate saucepan, bring about 1.5 quarts of water to a boil. Then pour the boiling water into the saucepan with the prepared egg jars. You need enough water to reach about halfway up the exterior of the jars. Set the stove top to a medium heat, and then cover the saucepan with it's lid. Steam the eggs for about 8 minutes.
Mix together the english white cheddar & parmigiano-reggiano in a small bowl. Then, sprinkle the tops of the semi cooked eggs with the cheese mix. Place the lid back onto the saucepan, and allow the eggs to cook until they reach your desired texture. That will be about 2 - 5 minutes.
Carefully pull the coddled egg jars out of the hot water, and serve.
Enjoy!