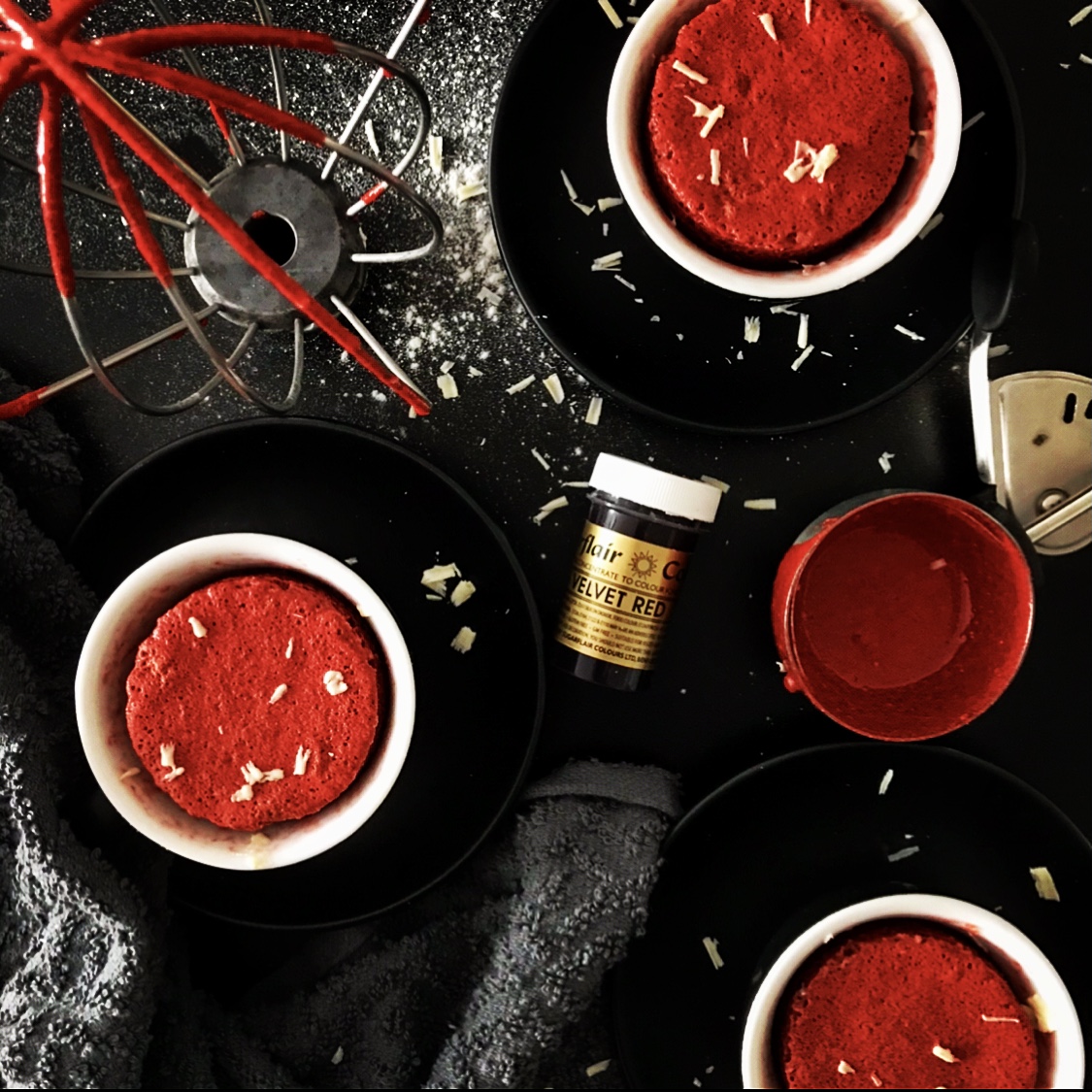 Yield: 12 Espresso Cups / 6 Ramekins
Prep Time: 15 Minutes
Total Time: 25 – 30 Minutes
Ingredients
1 Tbsp. Butter (Softened, coating the ramekins)
3 Tbsp. Granulated Sugar (Coating the ramekins)
115g Dark Chocolate (Chopped)
5 Large Eggs (Separated)
80g Granulated Sugar
3 Tbsp. Milk
1 Tbsp. Red Gel Food Dye
1 Tsp. Vanilla Extract
2 Tbsp. Granulated Sugar (For the egg whites)
White chocolate Shavings to Garnish
Pinch of salt
Directions
1. Preheat your oven to 180 Degrees. Grease your ramekins using a pastry brush and brushing from the base upwards. Lightly coat with sugar, tapping out the excess and place in the fridge until ready to use.
2. Microwave your chocolate in a large bowl for 1 minute or until melted (stir at 30 second intervals) Stir in 4 of the egg yolks, sugar, milk, food dye and vanilla extract.
3. Wipe down a large bowl/ your stand mixer bowl with white vinegar. Beat 5 egg whites and the salt on high speed, until foamy. Gradually add the 2 tbsp. of sugar and beat until stiff peaks form. Add a dollop of egg whites to your chocolate mix and beat until combined, before adding the chocolate into the egg white and folding until no egg white is visible.
4. Remove your chilled ramekins from the fridge, and spoon your mix up to the rim and then run the tip of your thumb around the edges of the ramekins, creating a shallow indentation. Place on a baking tray which is filled half way up the ramekins with water, creating a water bath (Helps an even cook and rise).
5. Place into your 180-degree oven and then immediately reduce the heat to 170. Bake for 7 minutes in a espresso cups or 18 to 20 minutes in a ramekin (or until they have risen and are set)6. Garnish with white chocolate shavings and serve!