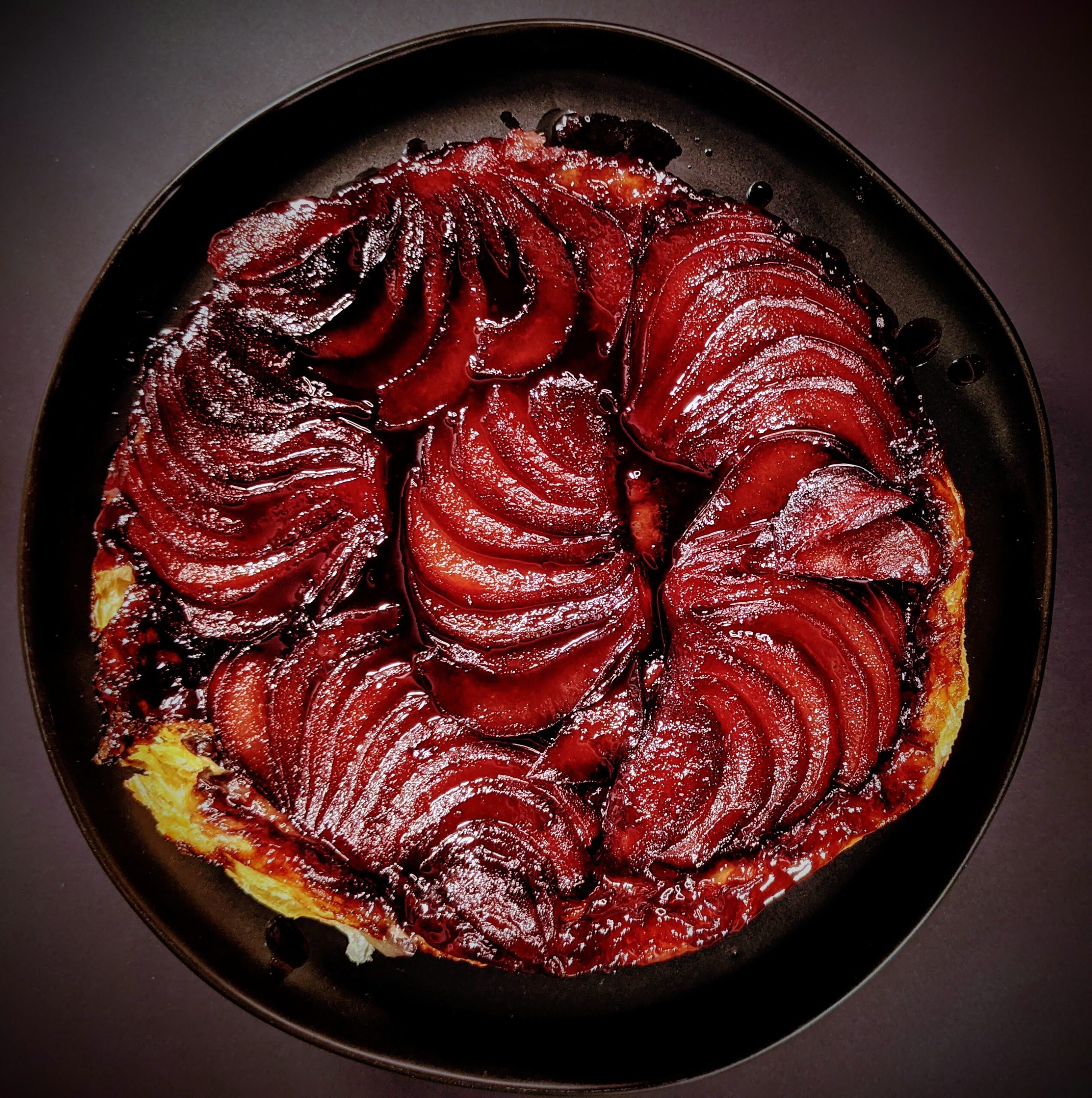 Yield: 6 servings
Prep: 20 minutes
Total Time: 1 hour & 20 Minutes
Ingredients:
1 bottle & 2 c. Red Wine
1 tsp. Vanilla Paste
2 Cinnamon Sticks
¼ c. Orange Juice (freshly squeezed)
Zest of 2 Large Orange
1 ½ c. Granulated Sugar
1 tsp. Golden Syrup
¼ c. Water
2 Tbsp. Salted Butter
3 Ripe Pears (peeled, cored, stems removed and halved)
12in. In Diameter Puff Pastry (store bought will work)
Directions:
In a large saucepan, combine 1 bottle of red wine, 1 c. granulated sugar, 1 cinnamon stick & the zest of 1 orange. Whisk until all ingredients are fully incorporated, and then bring to a boil. Stir on occasion. Next, bring the red wine bath down to a simmer and then stir in the vanilla paste. Finally, add in the ripe pears and simmer for 20 minutes. Be sure to cover the pears in the wine bath completely. You can use a plate to ensure they are all fully submerged.
Place the pears into a container with the lid slightly open, set to one side and allow to cool.
In a medium saucepan, combine 2 c. red wine, cinnamon, orange juice & zest of 1 orange. Bring the wine mix to a boil, and reduce until only about ¼ c. of syrup remains. Discard only the cinnamon stick.
Place a medium skillet (12 in. in diameter & with an oven safe handle) onto a medium-high heat. Combine ½ c. granulated sugar, golden syrup, and water. Stir until all ingredients are completely incorporated, and then leave the caramel to form without ever stirring again. When you see a caramel color develop, take it off of the heat and add in the warm wine syrup and butter. Stir until all ingredients are fully incorporated. Leave to cool completely.
Slice the poached pears lengthwise, about 90% of the way up. Feather out the pear slices and then place them into the cooled syrup, decoratively. Remember, you will be flipping this over later. So, the pear touching the bottom of the pan will be what people see later.
Preheat the oven to 375F.
Place the puff pastry sheet on top and then tuck the edge into the pan. Use a sharp knife to pierce the pastry top about 5 times. This will allow the steam to escape.
Place the prepared tarte tatin skillet into the oven and then bake for 45 minutes to 1 hour. The puff pastry should have puffed up and be a beautiful golden brown.
Allow the tarte tatin to cool for 15 minutes and then, using the serving plate, flip over the tarte tatin as quickly as possible. Be careful, as there will be hot syrup doing its best to escape. Serve with creme anglaise or creme fraiche.
Enjoy!!