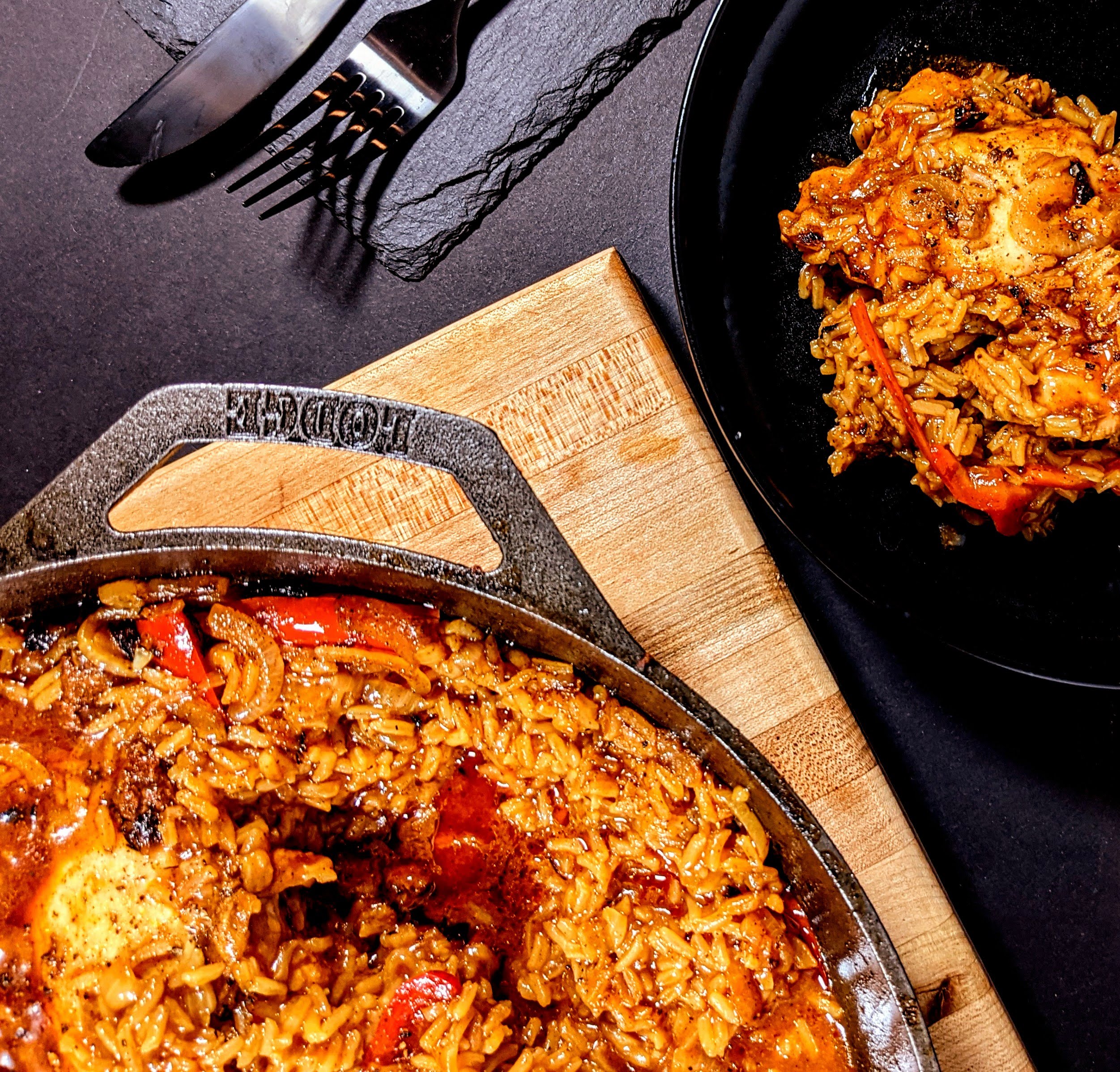 Yield: 4 - 6 servings
Prep: 5 minutes
Total Time: 50 minutes
Ingredients:
6 Chicken Thighs (boneless & skinless)
1 Tbsp Garlic Powder
1 tsp. Dried Oregano
2 tsps. Cumin Powder
1 Tbsp. Paprika Powder
1 - 2 tsp. Cayenne Powder
1 Tbsp. Extra Virgin Olive Oil
1 Medium Yellow Onion (thinly sliced)
1 Red Bell Pepper (thinly sliced, seeds removed & discarded)
2 Tbsp. Tomato Paste
4 c. Chicken Stock
2 c. Long Grain White Rice
Salt & Pepper to Taste
Directions:
In a medium bowl, massage all of the dried spices onto the chicken thighs, cover with plastic wrap, and set aside for 15 minutes. Alternatively, this step can happen 24 hrs in advance, marinating the chicken in the refrigerator overnight.
In a large dutch oven (or deep skillet), heat the extra virgin olive oil on a medium high heat. Once the oil is hot, add in the onion. Cook the onions for about 10 minutes, stirring occasionally. They should be translucent and lightly charred/caramelized. Next, add in the red bell pepper, and cook for about 5 more minutes. They should be slightly charred.
To the onions and bell peppers, add in the seasoned chicken thighs (get all of that seasoning into the pan), and sear each side of the chicken thighs for 3 minutes. Then, add in the tomato paste and chicken stock. Gently agitate the tomato paste until it has completely dissolved into the chicken stock. Be sure to gently scrape the brown bits at the bottom of the pan. That's where all of the flavor is hiding.
Now, stir in the long grain rice and bring the broth to a boil. Once boiling, set the temperature to a low heat, cover and leave the rice to cook. It should take about 20 more minutes; however, the amount of time to cook the rice does vary. Once the chicken reaches an internal temperature of 165F, and the rice is soft, it is ready to be served.
Enjoy!