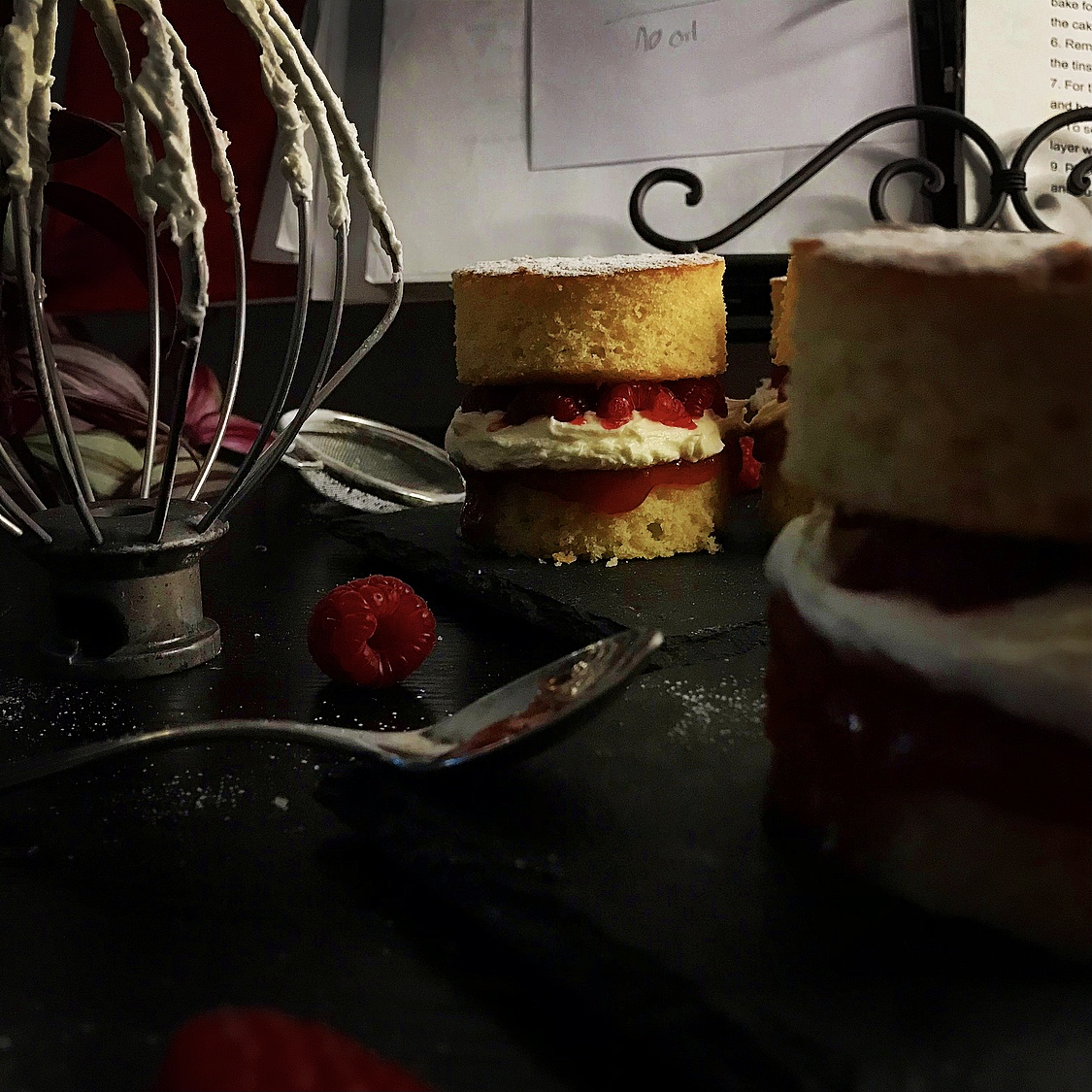 Yield: 6- 8
Prep Time: 20-30 Minutes
Total Time: 1- 1 ½ Hours
Ingredients
Sponge
2 Large Eggs
110g Caster Sugar
110g Self Raising Flour
½ Tsp. Baking Powder
110g Unsalted Butter (Softened)
1 Tsp. Vanilla Extract
Jam
100g Raspberry's
125g Jam Sugar
Buttercream
50g Unsalted Butter (Softened)
100g Icing Sugar (Sifted)
1 Tbsp. Milk
1 Tsp. Vanilla Extract
Decoration
50g Raspberries
1 Tsp. Icing Sugar
Directions
Preheat your oven to 180 (160 Fan), then grease and line a 13 x 10-inch sheet pan with baking parchment.
Beat the butter and sugar in a large mixing bowl until light and fluffy.
Add the flour, eggs, and baking powder, mix until just combined.
Pour into the prepared tray and spread out evenly with a spatula.
Place in the middle of the preheated oven and bake for 15 minutes to 20 minutes (Check at 15)
Place your raspberries in a small saucepan and crush them with a fork. Add the sugar and place on a low heat until the sugar has dissolved. Then increase the heat and leave to boil for 4 minutes before removing from the hob and setting aside to cool.
When the cake is baked, and golden (a clean skewer can be inserted and come out clean) remove it from the oven and set it aside for 5 minutes before turning it out onto a cooling wrack.
For the buttercream, cream together the icing sugar and butter, add the milk and vanilla extract, whisk until lightened in colour and texture.
To assemble, cut your cake into round using a 2- 3-inch cookie cutter, removing the offcuts. Place 1 – 2 tsp. of jam onto half the disks of cake along with 1 – 2 tsp. of buttercream and spread out with a teaspoon.
Place the fresh raspberries on top of the buttercream with the other cake disk on top. Dust with icing sugar and serve!