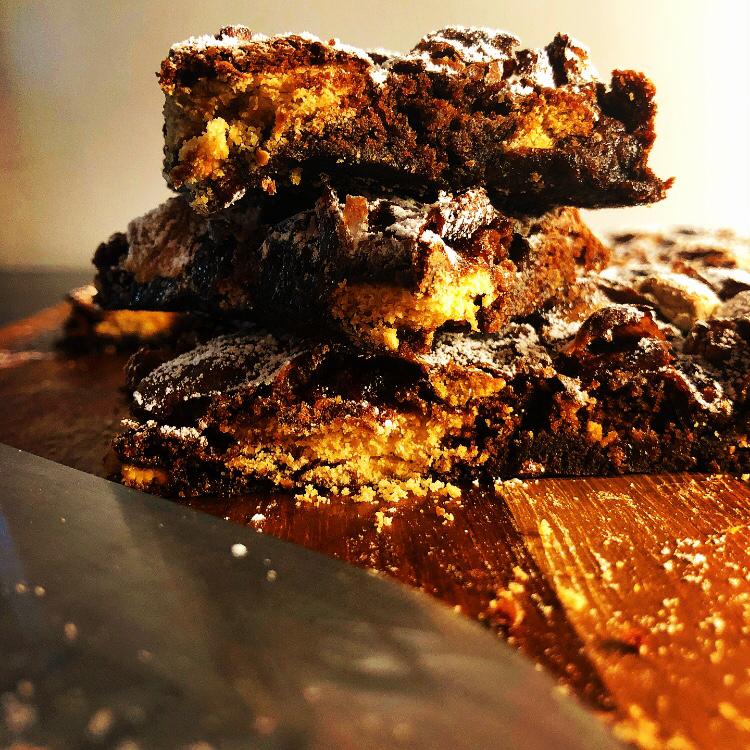 Yield: 16
Prep Time: 25 Minutes
Total Time: 1 Hour
Ingredients
180g Unsalted Butter (Cut into small cubes)
180g Dark Chocolate (Chopped into chunks)
3 Large Eggs
270g Caster Sugar
80g Plain Flour (Sieved)
35g Cocoa Powder (Sieved)
50g White Chocolate (Chopped into chunks)
50g Milk Chocolate (Chopped into chunks)
175g Digestive Biscuits (Broken into large pieces)
100g Marshmallows
Icing Sugar To Dust
Directions
Place your prepared butter into a medium bowl, along with the dark chocolate chunks. Put a small saucepan ¾ full on the hob on a low heat and sit a bowl on top, which just sits above the water. Stir occasionally until the butter and chocolate have melted.
Remove bowl from the saucepan and set aside to cool. During which time you can preheat your oven to 180 degrees and line your baking tray with non-stick baking parchment.
Place your eggs, and caster sugar in a stand mixer and whisk for 3 – 8 minutes until pale and doubled in size. Pour the cooled chocolate and butter mixture over the eggs and fold in carefully to not knock out all the air.
Add your sieved plain flour and cocoa powder and fold in again slowly. Be patient as it may look too dry at first, but you also don't want to over work it, before adding the milk and white chocolate chunks, digestive biscuits and marshmallows.
Pour entire mixture into prepared tin and place in the centre of your oven for 25 minutes.
Take out the oven and leave the whole thing to completely cool before removing from the tin and cutting to serve!