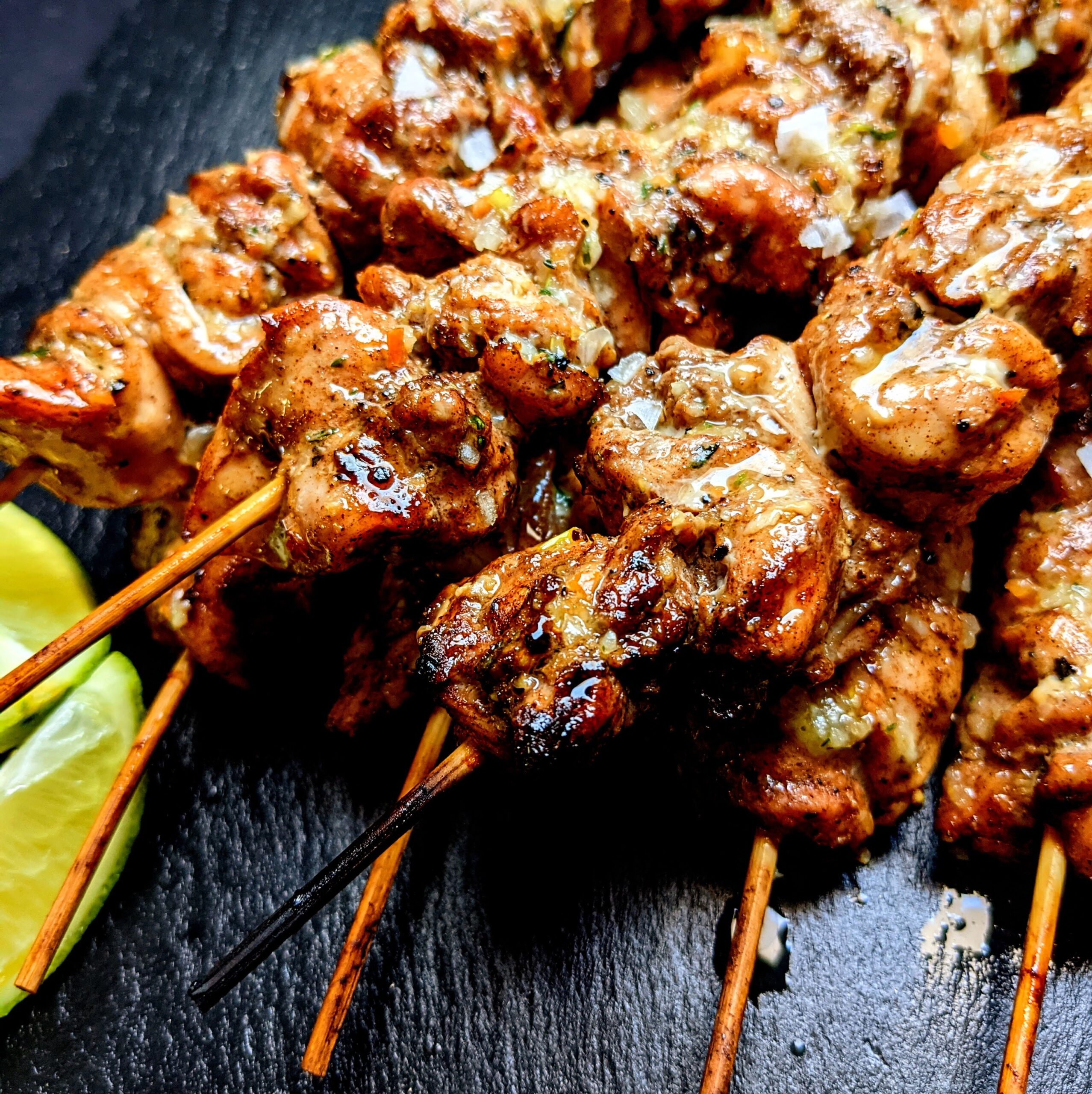 Yield: 12 skewers
Prep: 1 hour 30 minutes
Total: 1 hour 50 minutes
Ingredients
3 lbs Boneless Skinless Chicken Thighs (cut into large cubes or strips)
2 Tbsp. Dark Brown Sugar
1 Tbsp. Freshly Cracked Black Pepper
1 tsp. Salt
2 tsp. Ground Allspice
2 tsp. Ground Cinnamon
2 tsp. Ground Ginger (fresh is even better)
½ tsp. Ground Nutmeg
½ tsp. Cayenne Pepper
½ tsp. Cumin
1 c. Olive Oil
1 Large Shallot (roughly diced)
3 Garlic Cloves (roughly minced)
3 Scotch Bonnet Peppers (seeds removed & roughly diced)
2 Limes (cut into 12 lime wedges_
Finishing Salt
Directions:
In a large bowl, stir brown sugar, black pepper, salt, allspice, cinnamon, ginger, nutmeg, cayenne pepper & cumin until well combined. Add in the chicken cubes (or strips) and massage all of the spices onto the chicken. Ensure every piece is coated in the dry spice mix.
Using a food processor, pulse together the olive oil, shallot slices, minced garlic, & scotch bonnet peppers until a chucky puree has formed. Spoon 2 heaping tablespoons of the spicy puree into the bowl with the chicken, and reserve the rest in an airtight container placed in the refrigerator.
Massage the spicy puree all over the spiced chicken, cover, and place in the fridge. Allow the chicken to marinade for 1 - 2 hours.
Soak bamboo skewers in warm water for 30 minutes, then thread the chicken onto the skewers. I made a point to puncture each piece of chicken 2 to 3 times, creating a ribbon-like effect, to best ensure none of the chicken would fall.
On a medium-high heat, grill the skewers on a lightly greased grill for 20 minutes. Be sure to turn the skewers every 4 minutes.
As soon as the skewers are finished cooking, brush each skewer with the reserved spicy puree, sprinkle a small amount of finishing salt, and serve with a lime wedge.
Enjoy!!!