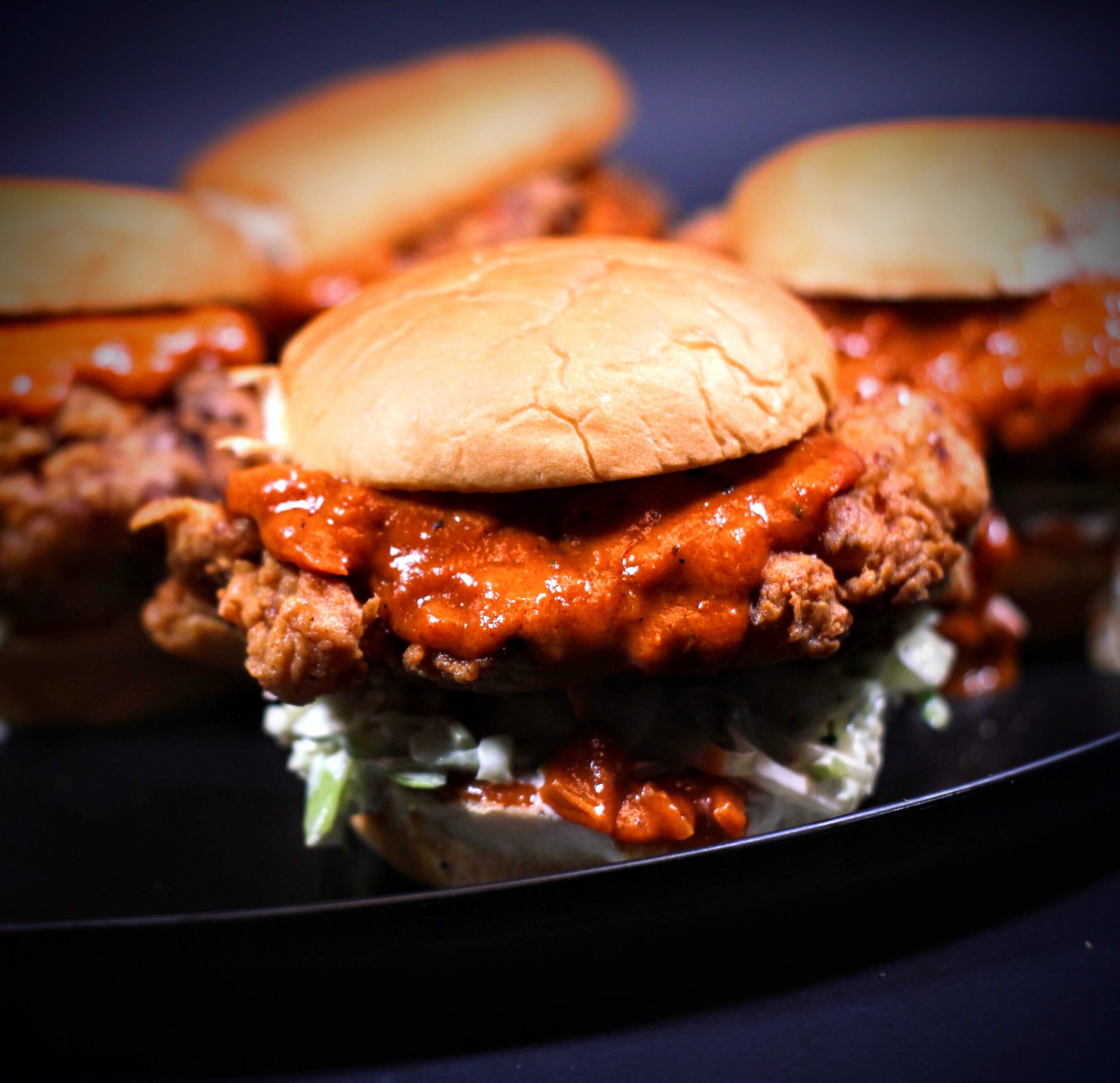 Yield: 6 serving
Prep Time: 1 hour 20 minutes
Total Time: 2 hours
Ingredients:
2 lbs. (Approx. 6 pieces) Boneless Chicken Thighs
2 c. Buttermilk
1 Tbsp. Chili Powder
2 Tbsp. Garlic Powder
1 ½ Tbsp. Onion Powder
1 Tbsp. Paprika
1 Tbsp. Cayenne Powder
2 Tbsp. Coleman's English Mustard
3 c. All Purpose Flour
½ c. Cornstarch
To recreate the U.S. vs. U.K. challenge "Midnight Snack" sandwich, you will also need:
Hawaiian Sweet Bread (toasted)
Tikka Masala Curry
Directions:
In a large bowl, combine buttermilk, chili powder, 1 Tbsp garlic powder, and ½ Tbsp. onion powder. Whisk the mixture very well, making sure all ingredients are fully incorporated. Place boneless chicken thighs into the buttermilk. Make sure each chicken thigh is fully coated, and completely submerged. Cover with plastic wrap and then store in the refrigerator for, at least, 1 hour.
Prepare a deep cast iron dutch oven by placing it on a stove top, set to medium-high heat. Fill with about 2 inches of canola oil. The oil will be ready for frying when it reaches 350F.
Remove chicken thighs from buttermilk and place into a separate medium bowl. Add coleman's english mustard, and gently massage the chicken until there is an even coating of mustard on every piece. Keep the buttermilk marinade for a later step.
Now, in a very large bowl, combine all purpose flour, corn starch, 1 Tbsp. garlic powder, 1 Tbsp. onion powder, paprika and cayenne powder. Whisk the mixture very well, making sure all ingredients are fully incorporated. One-by-one, place each piece of chicken thigh into the flour mixture. Fully coat and press flour onto the chicken thigh. Gently shake to allow excess flour to fall off. Using the buttermilk marinade leftover, dip the floured chicken into the buttermilk and then coat with a second layer of flour mixture. Again, gently shake off excess flour. Place flour coated chicken thighs onto a baking sheet.
Prepare another baking sheet by placing a cooling rack on top.
It's time to fry! Very carefully place 1 - 2 pieces of prepared chicken thighs into the hot oil. Fry for about 8 - 10 minutes, and then place onto the cooling rack. The chicken should reach 165F. Salt and Pepper to taste.
Allow the chicken to cool slightly. Serve!
Enjoy!!