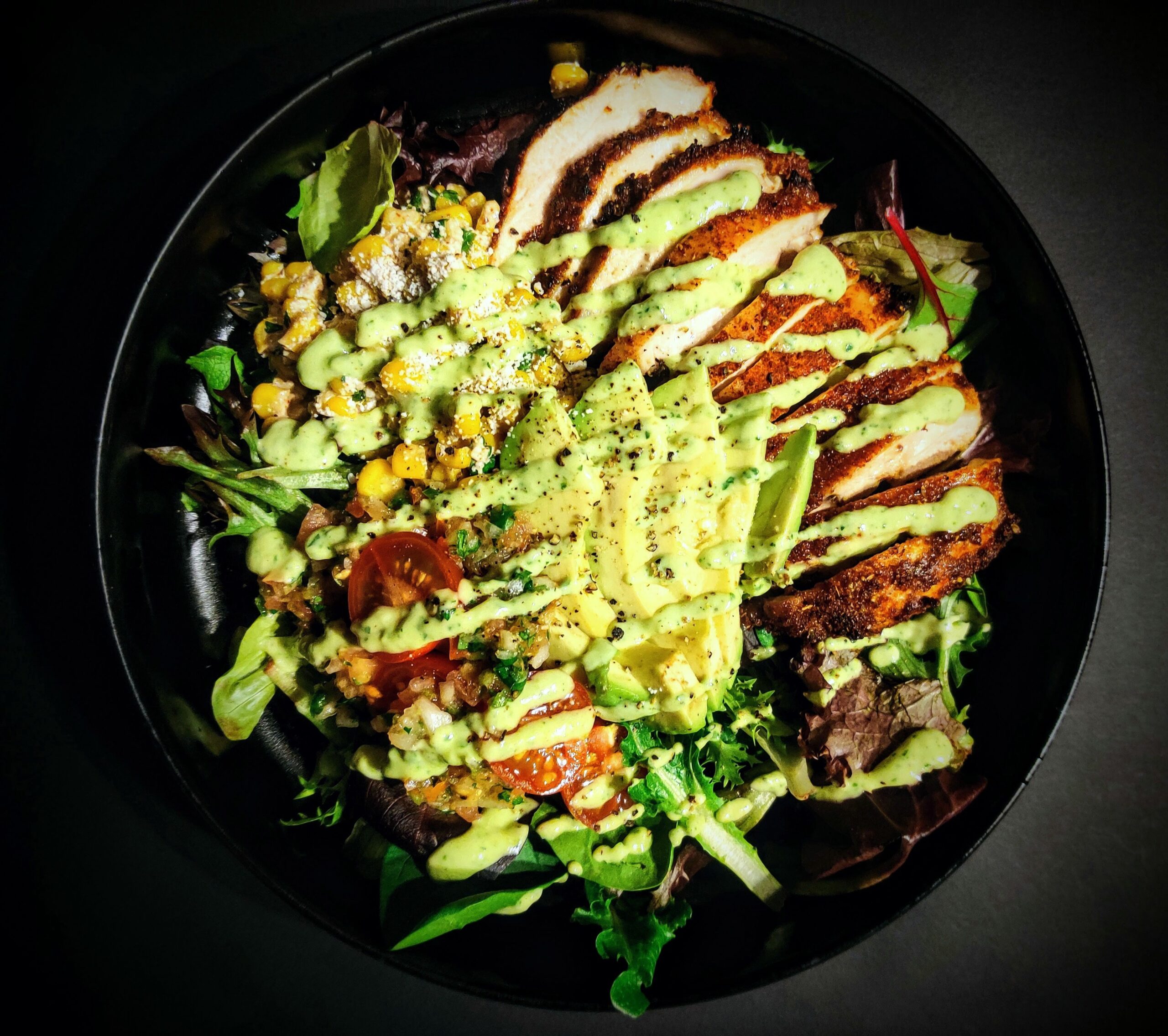 Yield: 8 - 10 servings
Prep Time: 15 minutes
Total Time: 30 minutes
Ingredients:
Avocado Lime Dressing
1 Medium Avocado
½ c. Plain Yogurt
½ c. Cilantro
1 - 2 Whole Garlic Cloves (Peeled)
2 Limes (juiced)
6 Tbsp Olive Oil (bonus points if you have garlic infused olive oil)
¼ Distilled Vinegar
½ tsps. Salt
1 tsps. Pepper
Broiled Sante Fe Chicken
2 ½ Lbs. Boneless Skinless Chicken Thighs
1 Tbsp. Olive Oil
2 tsps. Cumin Powder
1 Tbsp. Roasted Garlic Powder
1 Tbsp. Powdered Onion
1 tsps. Dried Oregano
1 Tbsp. Paprika Powder
1 tsps. Cayenne Powder (or to taste)
1 tsps. Salt
1 tsps. Pepper
Additional Ingredients:
1 - 2 c. Cotija Corn
1 - 2 c. Pico De Gallo
2 - 3 avocados
Lettuce Blend
Directions:
Avocado Lime Dressing
Peel & dice avocado, roughly chop cilantro leaves & stems, and mince garlic.
Combine all ingredients into a food processor and pulse until creamy.
Keep in an airtight container, stored in the refrigerator, for up to 1 week.
Broiled Sante Fe Chicken
Preheat the oven by switching on the broiler to high. Position the rack about 4 inches from the heating element.
Prep the baking tray with parchment paper. In my case, the parchment paper was not needed.
Combine all spices and mix well, making the Sante Fe Chicken seasoning mix.
Place chicken thighs into a bowl, and evenly coat with olive oil. Then, cover chicken thighs with all of the seasoning mix and mix well.
Place seasoned chicken thighs onto the prepared baking tray, making sure none of the chicken pieces are touching, and that all pieces of chicken will have direct heat from the heating element.
Place the tray into the oven, and broil for 7 - 10 minutes. Chicken will be done when the internal temperature reaches 165F.
Allow the chicken to rest for 5 - 10 minutes.
Assembly
Carefully slice the chicken into bite sizes, and then combine all ingredients to make this salad complete. This recipe makes plenty for a family of 6+ to have really full salads. To add a little crunch, I suggest adding some tortilla chip strips.
Enjoy!